Electronic Design Sales & Prices Support About us Contact
FORTE - very fast and flexible
High-Speed USB programmer
FORTE is a very fast and flexible High-Speed USB In-Circuit Serial programmer for a wide range of popular components - microcontrollers, serial EEPROM and Flash memory chips, CPLDs and others. FORTE is equipped with an effective overcurent and overvoltage protection. The programmer is powered from USB and it is able to provide the supply voltage for the programmed device in range from 1.8 to 5.5 V or it can work with the externally powered target application. Software for FORTE works under Windows and Linux.
Features
Very fast programmer (30 MHz out, 15 MHz in/out)
Controlled and powered by USB 2.0 High Speed (480 Mbps)
Embedded processor for fast execution of complex operations
Both synchronous and asynchronous programming algorithms supported, JTAG support
Supported voltage range 1.8 to 5.5 V without any additional accessories
Able to supply the voltage from 1.8 to 5.5 V to the external target application
Programming interface offers 8 inputs/outputs with individually configurable pull-up/down resistors
Built-in fast hardware I/O protection which works independently on the PC software
Overcurrent protection on supply and programming voltage sources
VDD pin overvoltage protection
GO button makes repetitive operations easy and quick
Wide range of supported devices, new software versions with new devices support are freely available from ASIX website

RoHS

compliant
Command line and Windows messages support
Works under Windows XP/Vista/7/8/8.1/10 (both 32 and 64 bit versions) and Linux (using Wine)
➜ Detailed comparison of PRESTO and FORTE programmers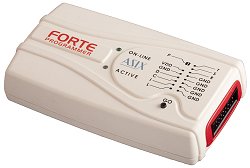 More information about FORTE
High speed

In comparison with the PRESTO programmer, FORTE includes embedded processor (designed in FPGA) which allows to perform complex operations and significantly increases performance. Therefore, devices can be programmed close to their maximum speed.
Many devices supported

Hundreds of devices are supported by the UP software and the list is growing continuously. Moreover, many other parts can be programmed using JTAG or other software for FORTE.

32-bit ARM-based MCUs by various vendors
Microchip PIC, dsPIC/PIC24 and PIC32 MCUs
Atmel AVR, ATxmega, AVR32 and 8051 architecture MCUs
Texas Instruments MSP430, CC430 and CCxxxx MCUs
Dallas/Maxim 1-Wire
Cypress PSoC MCUs
Silicon Labs EFM8 and C8051 MCUs
ST STM8 MCUs
Components with JTAG interface
Serial EEPROM and Flash memories

For detailed information, visit the page Supported Devices.

Moreover, we regularly add new devices when they have been released or when customers concern. Software upgrades are freely available for all users on the Internet.
Connection to PC via USB

The FORTE programmer is fully controlled and supplied via USB port. FORTE communicates in High-Speed mode (480 Mbps) and works with PCs equipped with both USB 1.1 and USB 2.0. The FORTE programmer is a plug-and-play device, therefore, all you need is a USB cable, which comes with FORTE.
In circuit/system programming

It means programming of soldered devices.

Recently, ISP (In-System Programming) or, specially for PIC microcontrollers, ICSP (In-Circuit Serial Programming) becomes more common than classic (usually parallel) programming where a device is programmed at first and then soldered. ISP/ICSP is highly advantageous for programming of SMD with fine pitch and it allows to upgrade firmware after finalization of the system.
Programming of individual devices

In case of programming of individual devices, which are not soldered and connected via ISP/ICSP on PCB, there is ISP2ZIF, a universal adapter with 40-pin DIP Zero-Insertion-Force socket.
Improved programming interface

In addition to the PRESTO programmer, FORTE offers another 4 input/output pins, which allow to program the most demanding devices. Thus, FORTE provides 8 independent I/O pins with configurable pull-up/pull-down resistors.

FORTE provides 16-pin two-row connector whose top row is fully compatible with 8-pin PRESTO connector and original 6-pin connector of ASIX' mature programmers. Voltage at the "P" pin can be set within the range of 6.5 V to 17 V. In case of using of 16-wire cable, particular signals are alternated with ground, then, longer cable can be used.
Enhanced possibilities of power supply

VDD pin can be an input (then FORTE input buffers are supplied from application voltage) as well as an output and supply the target application.

FORTE can supply an application with voltage within the range of 1.8 V to 5.5 V. For quicker change among programming phases it is necessary to discharge capacitors in application to 0 V, FORTE offers embedded controlled discharge resistor.

The FORTE programmer can measure voltage on "P" and VDD pins.
Enhanced overcurrent protection

FORTE includes fast hardware overcurrent protection on "P" and VDD pins, which is independent with a state of control PC.
User interface

The state of programmer is transparently indicated by two LEDs. ON-LINE (green LED) gives information about the USB connection, ACTIVE (bi-colour yellow/red LED) signalizes activity and error state of the programming interface.

GO button increases user comfort. It can start programming or perform any other user defined command.
Software

The primary software application for FORTE is the program UP. It offers many advanced functions like projects, command line control, Windows message control, workspace setup including user keyboard shortcut definitions, serial number generation by various methods, etc. UP works under Windows XP/Vista/7/8/8.1/10 (both 32 and 64 bit versions) and Linux (using Wine).

Software upgrades are freely available for all users on the Internet. They contain support of new devices, new functions and algorithm updates if required.
FORTE is small, lightweight and compact.
Related products
HPRAVR - PRESTO/FORTE to AVR Connector Adapter
ICSPCAB8 - an additional/replacement in-system programming cable
ICSPCAB16 - an additional/replacement in-system programming cable
ISP2ZIF - a universal adapter with 40-pin DIP Zero-Insertion-Force socket
PRESTO - inexpensive fast and flexible USB In-System programmer